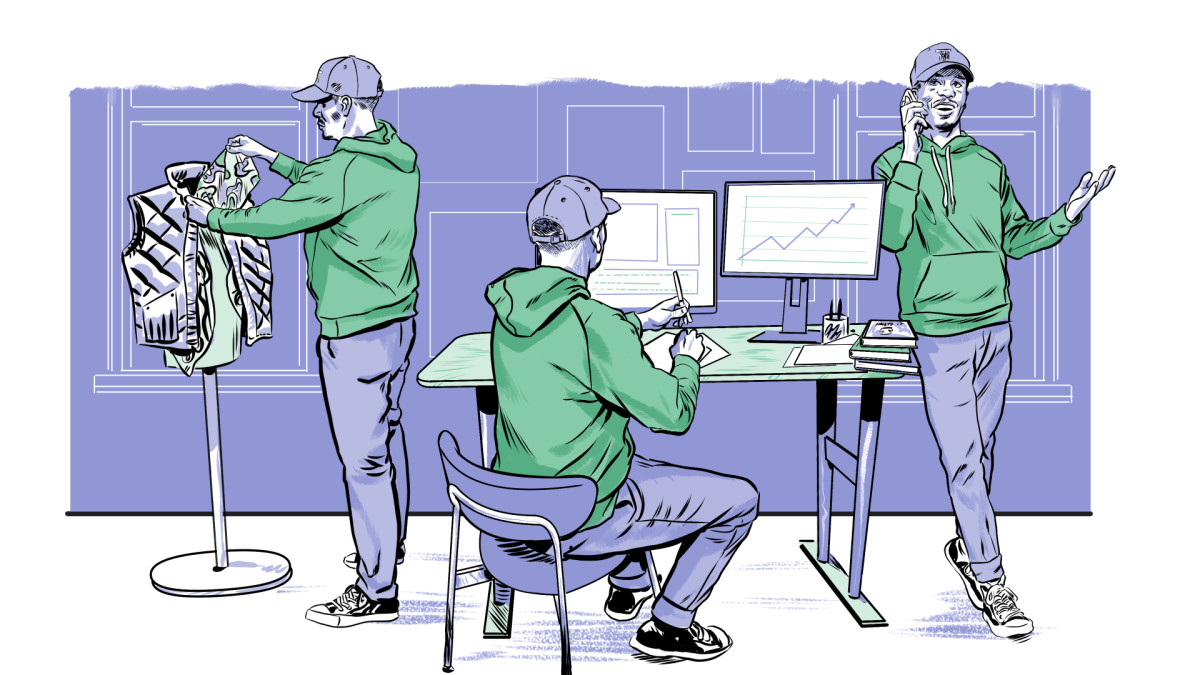 Tier's Nigeria Ealey Explains the Secrets to His Artistic Fashion Designs
Creative director, designer and artist Nigeria Ealey thrives on inspirational images. In his West Coast home, which is laced with floor-to-ceiling windows that showcase city views and mood boards that extend the length of the walls, he quite literally surrounds himself with them. It's how he stays true to his roots and how he connects to creative life forces around him. The result is Ealey's clothing company, Tier, which earned seven figures last year and can be seen on people all over the country.
Tier makes high-quality streetwear for men, women, and kids. That includes everything from monochromatic sets to outerwear to specialized baseball caps. But no matter the item, Ealey and his co-founders, Esaie Jean Simon and Victor James, craft every Tier piece with two touchstones in mind: authenticity and durability. And the label's slogan, "Art Never Dies," reflects that. It's a sensibility Ealey says dates to the trios days as student-company founders attending Brooklyn's Long Island University in 2014.
"When we think about people like Tupac or Michael Jackson or Van Gogh, their work meant so much while they were here that even after they're gone, it still means that," Ealey says. "I think that's the true test of a person—what impact can you leave on people in your field of work that's a representation and remembrance of what you did here?"
It's an ideology that not only fuels the brand, but one that helped shape Ealey's desire to express himself through fashion in the first place. As a kid attending schools throughout the city, Ealey remembers having to wear stifling uniforms. It wasn't until Fridays when students were allowed to dress in plain clothes that he was able to break from the monotony and show a little personality. During that time, he recalls being influenced by the vibrancy of anime. He found inspiration in the color schemes and the patterns and how the characters were so boldly presented. Ealey remembers looking forward to Fridays and creating opportunities to shine simply through his clothes. 
"There were big influences from the fashion aspect of it like, Oh these colors together will be perfect," he recalls. "I would watch and see the way they were dressing and be like, Yo, their outfits are fire." 
As creative director, Ealey focuses on conceptualizing and planning. He asks a lot of questions and works to make sure there's purpose and intentionality in every product he and his co-founders stamp their names on. 
In alignment with their "Art Never Dies" motto, the trio also works to ensure that other artists have an unobstructed pathway for their work, too. Community engagement and breaking barriers for aspiring artists is another value Ealey holds close to the chest. 
 "We're really trying to take the model and make it its own entity for up-and-coming artists in music, in culinary, in photography, in any field that encompasses art," he remarks. "Our goal is to provide the necessary information and resources for the next group of up-and-coming entrepreneurs and creators that we didn't have."
To those ends, the time Ealey spent as an elementary school art teacher still inspires him. He remembers teaching and wishing he'd had that same level of guidance and support from his elders.
"You think about art, music and dance, and it's always like, If you don't finish your test in math, you can't go to art," he says. "But these things are not secondary. It's taught that only one of however many can make it in these fields, so it's ingrained that they shouldn't be artists. But there are literally people who only see pictures in their heads, and art is just as important as math and science."
During his time as a teacher, Ealey worked to make sure his students felt validated. Cultivating their talents and making sure they felt seen was his mission.
"I always say children are the smartest people on the Earth," he says. "And they helped me find my inner child. I had students that were extremely talented and didn't even know they were creating something great."
He remembers his stint as a teacher serving as the reset and push he needed to elevate Tier to the next level. Now, it's that same vigor and renewed enthusiasm that helps him push the brand forward. As an independent company, Ealey remains proud that Tier hires directly from its community and that it is a stable incubator for young artists finding their way.
"This is purpose work," he says. "Yeah, we have fire clothing, and it's quality and it's good, but I want to be an example to show people you can literally do anything you fully put your mind to.'
Ealey projects that Tier will make more than a million dollars next year, which is a goal he manifested several years ago. He's a firm believer that if you really do the work, there's no direction to go but up.
"I grew up in the projects my whole life," he remembers. "We had EBT cards, and there's a lot of people that come from where I come from that can't even fathom this. But it's real. I've really made something out of nothing."
With a steadfast directive to break barriers and prioritize art all while giving back, Ealey doesn't plan on slowing down any time soon
"From the time I wake up to the time I go to sleep, I'm focused on Tier," he explains. "If I put my mind to it, it's obtainable. If I put my time into it, it's obtainable. We're showing people we can navigate any space, no matter what."
When asked about the mood boards and what we can expect from Tier's next collection, Ealey smiles. The passionate creative director couldn't say much, but he wants the world to know it'll be a homecoming. 
And he'll leave it at that.

https://www.complex.com/style/nigeria-ealey-tier-art-and-inspiration