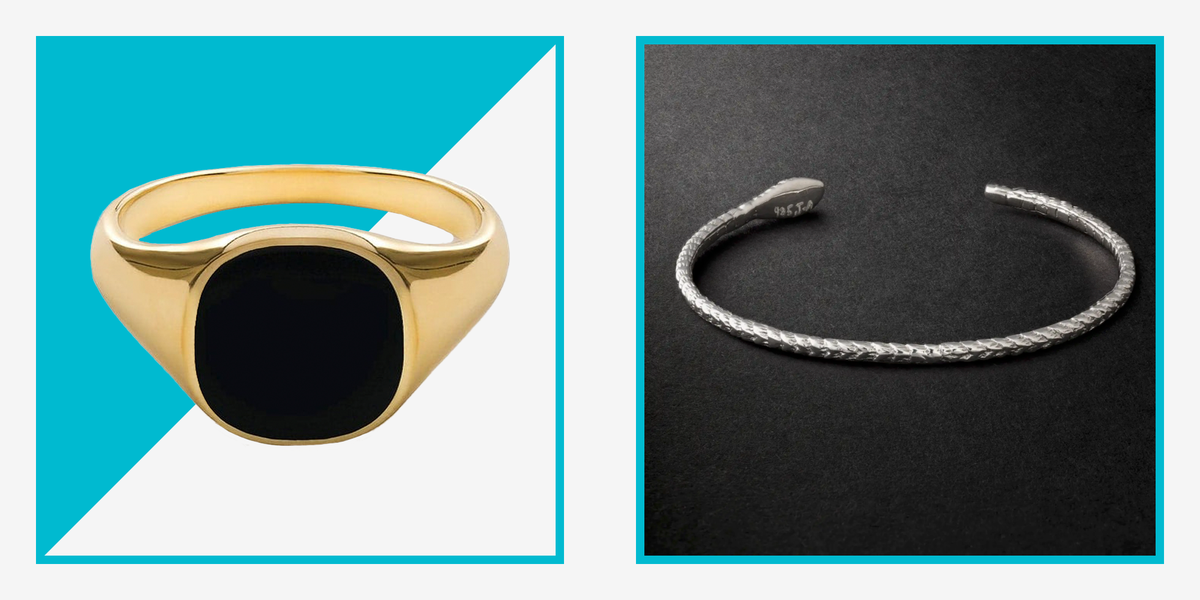 The Best Jewelry for Men To Sport Every Day in 2022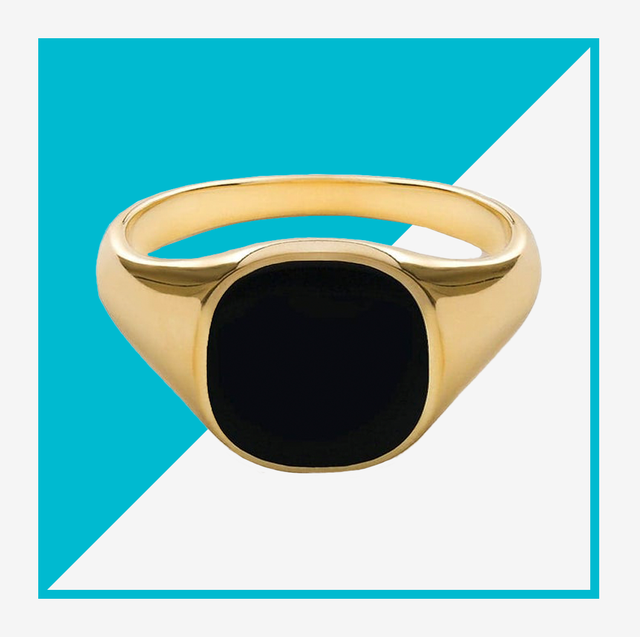 Courtesy of retailer
In today's fashion landscape, with the resurgence of men's jewelry well underway, the only rule is that there are no rules. Easy enough, right? That said, jewelry options for men abound, meaning things can get a little overwhelming.
If you're new to the men's jewelry game, take it back to basics by starting with simpler pieces. Maybe wearing anything on your finger other than a wedding band sounds too adventurous—that's okay too. The best jewelry for men includes whatever you feel comfortable with, even if that means opting for items that are more personal and lowkey.
Read More: Best Men's Clothing Brands
Jewelry for men can also be very loud and brash, and if that's your vibe, then consider upping the ante with even more over-the-top pieces to reflect your personality and style. When it comes down to it, accessorizing your looks to elevate your fits should be fun—you get to choose where you wear, what and how is too much or too little.
But should you be in need of inspiration as you head on your jewelry journey, take a cue or two from the famous fashion aficionados who've been leading the charge in the trend like Bad Bunny, Shawn Mendes, Maluma and ASAP Rocky, who all leave plenty to lust after.
Go ahead, take a look at our 20 best jewelry picks for men—which include chains, necklaces, rings, bracelets, earrings and even watches—and start adding another level to your looks, stat.
Advertisement – Continue Reading Below
Best Necklace
Gold-Plated Necklace
In short: It's simple, sophisticated and infinitely versatile. Then, of course, there's the fact it's located in London's prestigious jewelry district, Hatton Garden, where the super-cool brand blends high-tech design with its unique heritage.
Logo-Engraved Burnished Silver-Tone Chain Necklace
Not as flashy as gold, but equally stylish and ideal for all-round wear, this chain—which is made from polished silver-tone brass—includes an insignia-inscribed clasp that gives it that extra bit of Saint Laurent chic.
Deedee Enamel, Pearl and Gold-Plated Necklace
Éliou, a handmade-in-Miami label inspired by sea and sand has amassed a huge star following, with couple Hailey and Justin Bieber both spotted in Éliou items. Let's be honest: The best jewelry is even better when it has a genderless, everyday appeal.
Silver Heart Pendant Necklace
If you're looking to enter the wonderful world of pendants in a subtle way, a delicate heart-shaped number with just enough power is a good gateway. Plus, we all need a little more love in this life—and it makes for a great gift to give someone you love, too.
Read More: Best Valentine's Day Gifts for Her
Tiger Eye Beaded Necklace
In case you've missed the memo, beaded jewelry is cool—and yes, we do mean beyond just the schoolyard. Tiger eye is a total classic, with its golden-yellow tint believed to guide sound decision-making, as well as fend off the evil eye. Sounds like a no-brainer to us.
Best Ring
Heritage Brute Classic Tri-Link Sterling Silver Ring
The jewelry house's distinct tri-link designs count Lenny Kravitz and David Beckham as fans. Proudly handcrafted in America, this sterling silver ring makes for a great signature accessory—as well as a future heirloom.
Olympus Signet Ring in Gold Vermeil/Black
The signet ring's original purpose was to seal and validate documents with wax—real old-school style. However, today's designs have evolved into even better statement pieces, like Miansai's gold signet ring, which boasts an elegant black enamel surface.
18-Karat Rose Gold Icon Thin Band Ring
The instantly recognizable GG motif is engraved on this otherwise understated ring. It's unabashedly Gucci, yet tame enough for anywhere, all-the-time wear. We'd say that's hitting the sweet spot.
The Nightwatcher Ring
Finding solace in Dante's Divine Comedy as a means to realize her own place in the world led jewelry designer Rosh Mahtani to launch Alighieri in 2014. And the results, like this sterling silver ring with a hammered-effect, are a storyteller's dream.
Men's Streamline Titanium Band Ring
David Yurman's son, Evan Yurman, began to truly establish the company's menswear presence in the early aughts when he was appointed the design director of the men's and timepieces collections. We love that this beautifully unfussy ring, which is part of the Streamline collection, features the brand's signature cable detailing on the inside of the band.
Best Bracelet
Elements 14-Karat Gold and Enamel Beaded Bracelet
Miami-based Brazilian jewelry designer Luis Morais made his mark back in 2001 when his beaded men's bracelets began to take off. Fast-forward to today and, as you can see, his pieces still look as fresh as ever. Stack these in multiples for next-level style.
Sister Hook 18-Karat Gold Bracelet
Murat and Beth Bugdaycay are the husband-and-wife duo behind Foundrae, an award-winning jewelry powerhouse. The label's Sister Hook bracelet looks magical as is, but the belcher-chain links are devised for you to deck with the brand's best jewels, trinkets and charms.
Silver Snake Cuff Bracelet
The Jacquie Aiche name is all about positive vibes and vibrations. Drawing inspiration from her Native American and Egyptian heritage, the Los Angeles-based jewelry designer creates pieces that look more like stylish amulets to keep near and dear. This silver snake-shaped cuff is an absolute winner.
Double-Wrap Leather Bracelet
The four brothers behind lifestyle accessories label Ezra Arthur aim to craft jewelry that'll last a lifetime. If rugged minimalism is your aesthetic, you'll be set with this elevated double-wrap leather bracelet.
Read more: Best Leather Jackets for Men
Men's 1.7G Sterling Silver Cord Bracelet
A cord bracelet for men is a surefire way to level up any fashionable fit. Enter Le Gramme—a label renowned for crafting the simplest and cleanest menswear pieces—with its glimmering take on the style featuring a branded silver plaque.
Best Earring
14-Karat Gold Plain Clicker Earring
The highly regarded piercing magnate's vast array of embellishments has made her a jewelry mainstay, which is why men and women worldwide turn to the brand for both showy and timeless numbers. Simply put, this uncomplicated and classic clicker hoop earring speaks for itself.
Men's Onyx Stud Earrings in Sterling Silver
Earrings for men can range from the ultra-blingy to the more muted, and Effy's round onyx gemstones find a perfect middle ground. These are subtle enough for daywear—and the lovely luster guarantees a shiny night out.
Gold-Plated Bolt-Polished Ear Cuff
If getting an actual piercing is a step too far out of your jewelry safety zone, consider slipping on an elegant ear cuff. Artisanal designer Emanuele Bicocchi makes the case for ear cuffs with the perfect glam-rock piece.
Best Fashion Watch
Silicone Strap Watch
The Italian luxury fashion goods company prides itself on beautifully bringing its house codes onto its Swiss-made watches. Aptly named the Ferragamo Urban watch, it may lean toward the casual side, but it's more than just a pretty face.
On Fadelite Smartwatch
It took some time for smartwatches to be fully embraced by devout fashion followers, but Diesel's approach to the smartwatch world proves that these digital accessories can be as beautiful in form as they are advanced in their tech.
Read more: Best Smartwatches for Men
This content is created and maintained by a third party, and imported onto this page to help users provide their email addresses. You may be able to find more information about this and similar content at piano.io
Advertisement – Continue Reading Below
https://www.menshealth.com/style/g38970508/best-jewelry-for-men/