scottish grand tour of design, art and whisky
Is there a car more fitting to drive in Scotland, not least along the highest roads in the U.K., than a Jaguar I-Pace coated in Jacobian blue? The nation has a historic, intertwined relationship with the British sports car manufacturer: two of the 53 C-Types founder William Lyons built to challenge for the Le Mans 24 Hours race (successfully achieved in 1951) flew under the Ecurie Ecosse flag, the same legendary Edinburgh motor racing team went on the win again in 1956 and 1957 in the D-Type, and Dumfries-native Ian Callum was responsible for penning many recent icons such as the F-Type, F-Pace and I-Pace as Director of Design from 1999 to 2019. designboom's electrified journey through the Cairngorms, from the V&A Dundee to the Hauser & Wirth-owned Fife Arms and onwards to the nation's official oldest whisky distillery, reflected Jaguar's ongoing mission to balance tradition with contemporary.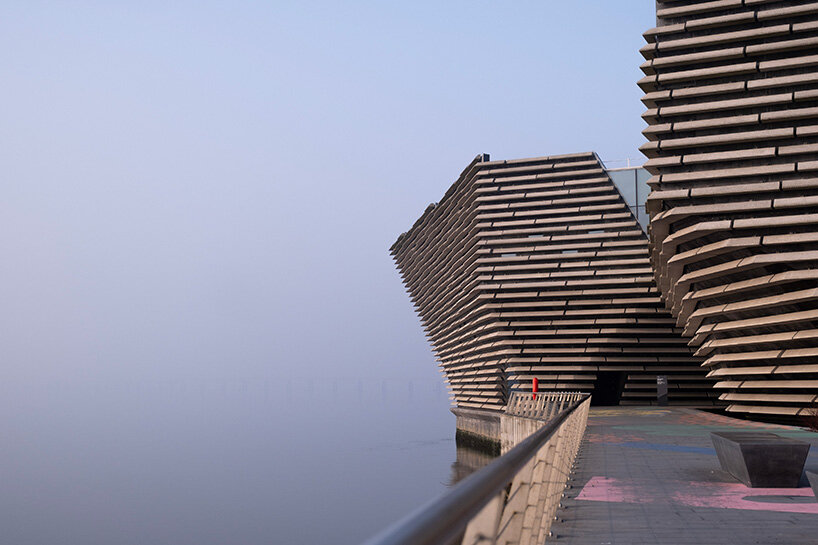 V&A Dundee curates the very best of Scottish design, past and present
all images courtesy of jaguar land rover
PAST AND PRESENT SCOTTISH DESIGN AT V&A DUNDEE
The inverted pyramids of the V&A Dundee, designed by architect Kengo Kuma to mimic the rock formations towering along the Scottish east coast, was a symbolic place to start our trip. At the institution's grand opening in 2018, Jaguar's first-ever all-electric car, the I-Pace, was unveiled in an exclusive exhibition of sketches, technological simulations and a scaled clay model. Today, a colorful and immersive installation by British-Nigerian designer Yinka Ilori inspires visitors. Upstairs, in the permanent gallery, the global achievements of Scottish design are a proud reminder that the past informs the future of creativity. The curation ranges in diversity, from ironmongery to furniture and Alexander McQueen to Timorous Beasties, even featuring Charles Macintosh's only preserved interior.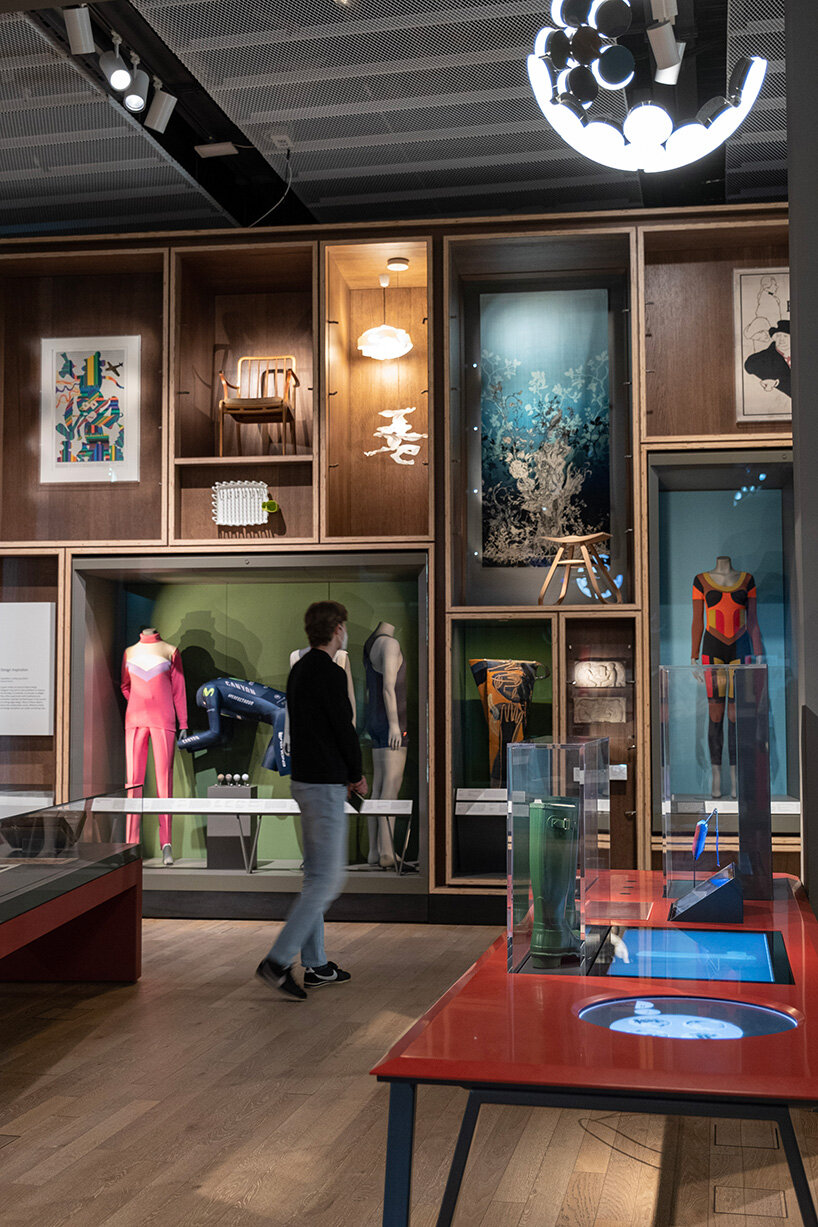 designboom's editor tim spears touring the museum's Scottish design exhibition
JAGUAR'S FIRST-EVER ALL-ELECTRIC CAR
Also first debuting in 2018, our ride from Dundee was the caesium blue Jaguar I-Pace. The revolutionary SUV takes advantage of the freedom offered by electrification as it rethinks its entire proportions with an extended wheelbase and shortened overhangs. Jaguar's design DNA is still distinct as a broad grille with a hexagonal grid adorns the stubbed nose front. Its low, vented bonnet juxtapositions a high, squared-off rear end. Inside, the ebony interior balances the brand's typical sports-like, driver-oriented cockpit with enough space to rival that of large saloons. A careful selection of high quality, natural materials influx the renowned luxury of Jaguar with sustainability. Its contrast of textures accentuates a contemporary feeling.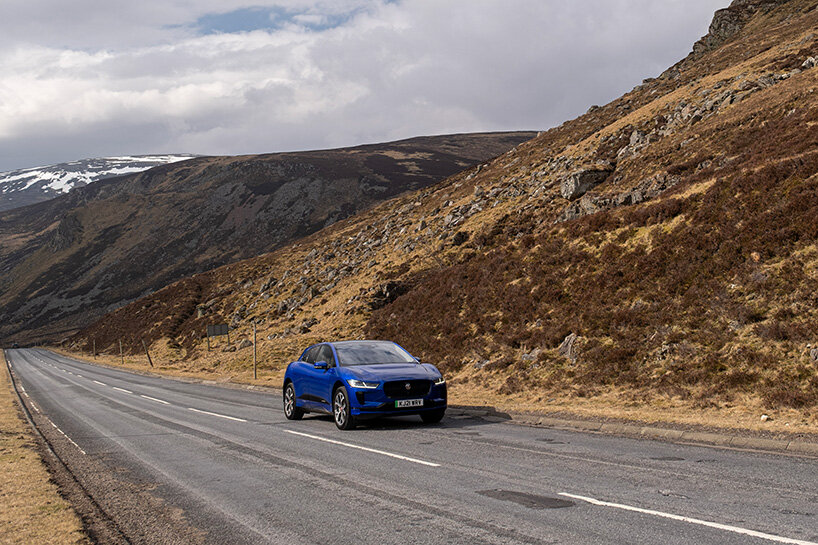 debuting in 2018, the Jaguar I-Pace is the british brand's first-ever fully electric car
The car has received incremental improvements since its first launch. We raced off – not literally – in the EV400 HSE model with 400PS and 696Nm of torque. This accelerates from 0-60mph in 4.5s and up to a top speed of 124 mph. Like most EVs, the driver experience is zippy, but the I-Pace makes for an even more engaging offering thanks to its low stance and precise steering. It successfully combines a sports car performance with SUV practicality. 292 miles is achievable per charge, taking around 45 minutes to refuel from 5-80% with a 100kW DC charger.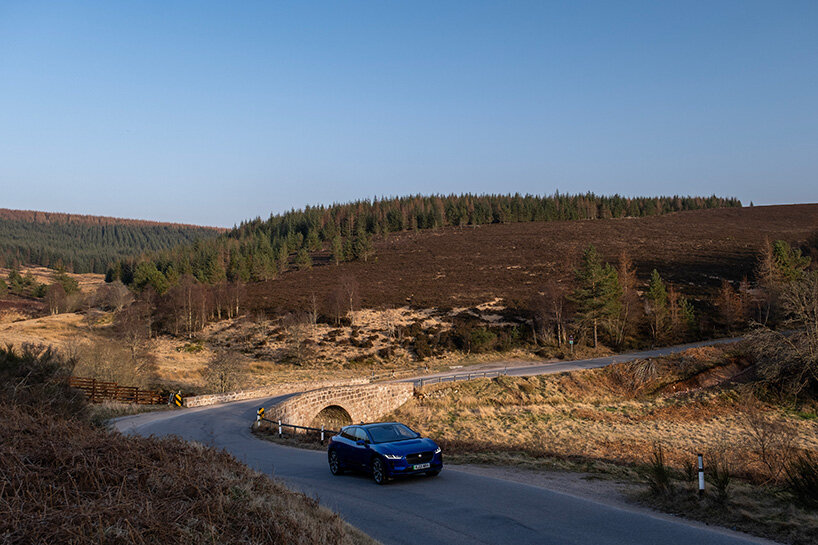 Jaguar's design DNA is still distinct as a broad grille with a hexagonal grid adorns the stubbed nose front
CONTEMPORARY ART AT THE HAUSER & WIRTH-OWNED FIFE ARMS
As the I-Pace recharged, the Fife Arms was our overnight stay in the Cairngorms. The category B listed building, designed by Alexander Marshall Mackenzie in 19th century as popularity in the area increased after Queen Victoria's purchase of Balmoral, is still a landmark of Braemar today. In 2015, Iwan and Manuela Wirth, co-founders of the global contemporary art gallery Hauser & Wirth, bought and set about reviving the former Victorian coaching inn. Crathie- and London-based Moxon Architects oversaw the restoration, which celebrates the unique culture of the region by intertwining the artisanal work of local creatives. This goes to prove that creating something special equals the collective of a talented team, as Jaguar demonstrates with each of its own designs.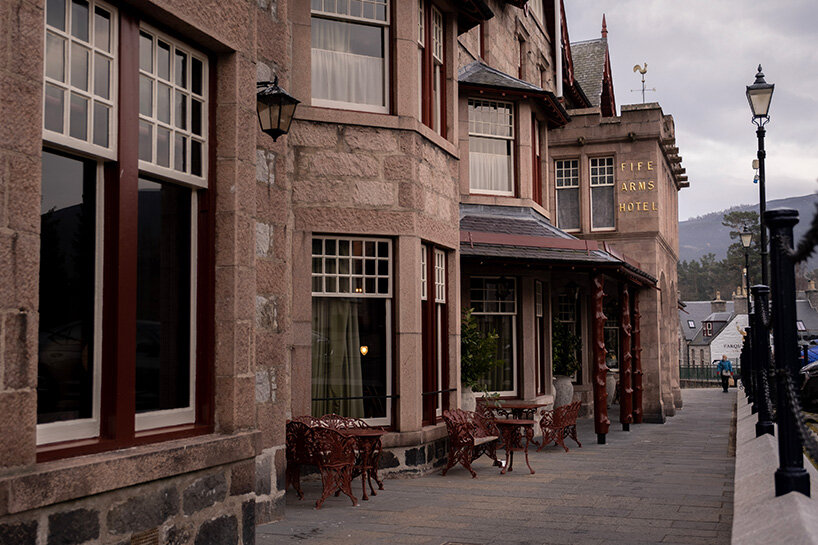 located in Braemar, the Hauser & Wirth-owned Fife Arms is a former coaching inn revived by Moxon Architects
Art is central to the Fife Arms experience. The restored interiors designed by Russell Sage layers a strong Scottish narrative using specially designed tweed and tartan by Araminta Campbell, rare specimens from the natural world, and 16,000 antique works of art and objects assembled by the Swiss owners. Commissioned pieces sit side-by-side with antiques: Queen Victoria's pencil and watercolor drawing of a stag shot by John Brown in 1874 welcomes guests into the entrance whilst Richard Jackson's 'Red Deer' chandelier cascades down the staircase as if an enlarged bag pipe blocked by illuminated glass antlers; the 'Apollo/Still Shining' collaboration between Steinway & Sons, composer Robert Glasper, and artist Mark Bradford entertains patrons nestled around the 125x125cm walnut fireplace depicting Robert Burns' poems in the reception; or Zhang Enli's 'Ancient Quartz' painting covering the ceiling of the drawing room above Pablo Picasso's 'Femme assise dans un fauteuil', 1953. Here, heritage is celebrated as much as novelties.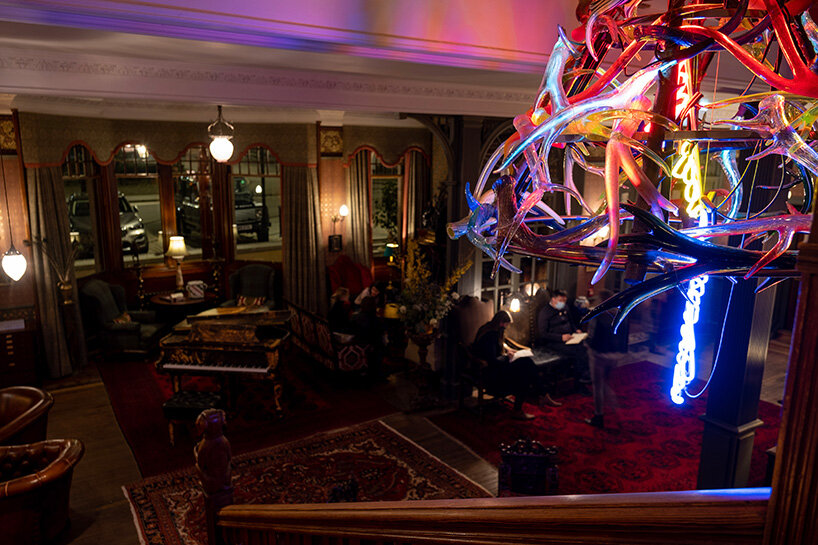 Art is central to the hotel, such as Richard Jackson's 'Red Deer' chandelier (right foreground)
QUALITY OVER QUANTITY AT GLENTURRET WHISKY DISTILLERY
Our final stop on the trip was a visit to Glenturret, the official oldest whisky distillery in Scotland. Crafting single malt since 1763, the Highland distillery produces approximately 340,000 liters per year. Now owned by the Lalique Group, it is complete with a factory, shop and Michelin star restaurant. A tour, finished with the tasting of a wee dram or two, highlights the care of a product nurtured for 10 years at least. The limited release of the E-Type distillery bottle was, in fact, aged for three decades. Celebrating 60th anniversary of the sports car's debut at Geneva Motor Show in 1961, only 265 bottles of the whisky was produced – one for each brake horsepower of the iconic E-Type. Like Jaguar, the distillery exemplifies how historic tradition can be enhanced to create contemporary marvels.
jaguar I-pace drive: scottish grand tour of design, art and whisky