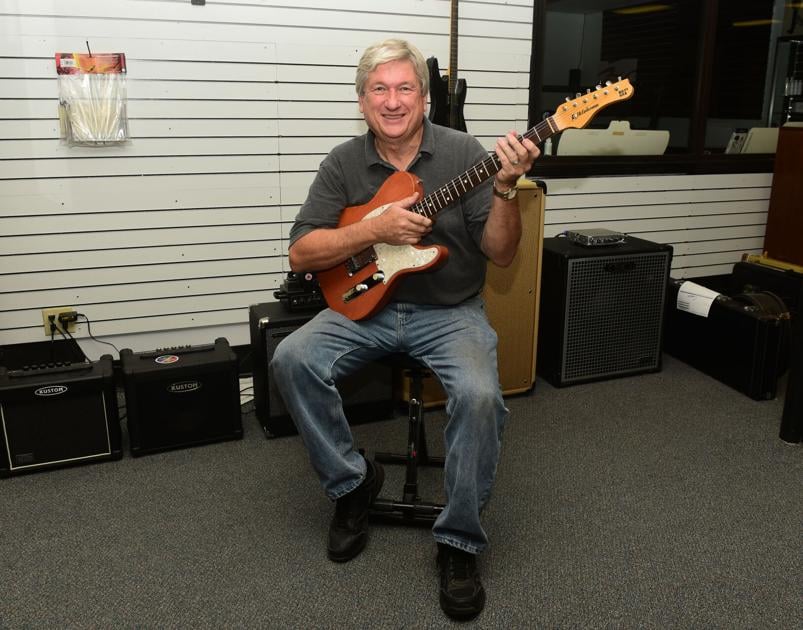 Norman Music Center to close after 56 years | News
A family-owned music shop that's served as a Norman institution for 56 years will close its doors later this month.
Before moving the shop to 317 W Gray St, where it's been for 53 years, owners Don and Sally Polk opened Norman Music Center at 1816 W Main St. on Sept. 15, 1965. The family plans to close by the end of October, they said.
Don decided to open his own music shop that summer after working for another store for over a decade following graduation from Oklahoma City University, Sally said.
Sally said Don went to Security National Bank on Main Street — now Arvest Bank — to talk to then-branch manager Jack Patton. After Don laid out his plans to open a music shop in Norman, Patton offered his support.
"'[Patton] said, 'You do the work and I will provide the money,' and he did at a fair interest rate, so we paid them back and have always been very grateful and admired him for that," Sally said.
Sally said a normal day at their first location would start with her day shift at Tinker Air Force Base. She would finish her shift, wait for Don to arrive home from the store around 6 p.m., then go back to the shop with their son Larry to repair instruments, sometimes until 11 p.m.
"We were young so we loved it, but we didn't do any recreation in those first three years," Sally said.
That work ethic and love for both the store and the people who patronized it were the foundation for their continued success, Sally said.
In September 1968, the Polks moved Norman Music Center to the Gray Street location, maintaining their bedrock values through their relationships with the community even today, Sally said.
In 1995, the shop received an award from Music Inc. Magazine for retail excellence and service. That personable service is why Steven Elkins said he's been a faithful customer since he was a teenager.
"I've been coming here for 45 years," Elkins said. "My first purchase was a Baldwin Howard Piano in 1975."
Elkins said what's kept him coming back since is the family-oriented atmosphere.
"There's been some other bigger stores that have come in since then, but this place felt like home," Elkins said. "Now it feels like we're losing a little bit of history in Norman."
Larry, who has helped his parents run the music shop since 1975, said while the music equipment industry has seen a significant shift to e-commerce in recent years, the shop is closing because it's simply the right time.
Closing the store will allow Larry more time to restore his classic Corvette, he said.
"It's just one of those things where it's better to go ahead close — I've got so many projects and things I need to get going and places I want to see while I can," Larry said. "And I need to help my mom and dad, so I'd say closing now is a great thing for all of us."
Larry said he and his family look back on the last 56 years of making friends with generations of customers and employees with nothing but fondness.
Sally said over the years, she and her family met many customers who were the grandchildren and great grandchildren of loyal customers from the 60s and 70s.
"We've had some employees that have become family, so we have many good memories of working here, but it's just time, and I plan to stay in touch with people," Sally said. "It was a true family business."
Jeff Elkins covers business, living and community stories for The Transcript. Reach him at [email protected] or at @JeffElkins12 on Twitter.

https://www.normantranscript.com/news/norman-music-center-to-close-after-56-years/article_1f5b013e-27ef-11ec-ae4e-53ccde11a824.html