One bride may have been head over heels in love, but she probably didn't expect to fall flat on her face.
A video clip shared on Instagram of a newlywed couple's first dance shows the moment when the weight of an elaborate gown and perhaps the expectation of the guests surrounding them, all got a bit much.
At the reception at Oheka Castle in Long Island, New York, Marie Blanchard lost her balance and toppled over, bringing her new husband, David Bradley, down with her.
The bride saw the lighter side of the tumble, which was followed by those watching breaking out into cheers.
"Falling in love," she posted on Instagram next to the video. "Not exactly the finale I had in mind. Not sure he understood the assignment! Not sure I cared."
"Can't really blame him with all 5'9 of muscle + Galia Lahav weight," she added, referring to the renowned wedding dress designer.
As of Saturday, the video was liked more than 13,000 times and it prompted light-hearted messages of support.
One wrote: "This will be a great memory and story for later years," another said, "Such a wonderful moment to remember and laugh about for years to come."
As the clip was widely viewed, the bride added that she was grateful that the wedding finally took place because COVID had meant it had been postponed three times before.
As far as wedding dances mishaps go, it could have been worse. One clip shared on TikTok by Emily Jackson that went viral showed a bride dancing while holding a bouquet.
The newlywed placed the flowers a little too close to candles sitting on a table and they flared up, as did the gasps of those who saw them swiftly flung to the ground, before being extinguished thanks to the stomps of a quick-thinking guest.
Or spare a thought for the couple taking their vows before their bridesmaid stumbles next to them and faceplants the grass, hitting the altar on her way down.
The clip shared on TikTok by Dizzy Lizzy shows the couple looking on in shock as the bridesmaid is slumped on the ground and members of the wedding party run to her aid.
Meanwhile, signaling the truth of Shakespeare's quote that the course of true love never did run smooth, other couples have had to overcome some unexpected obstacles to get to the altar recently.
In August, Lydia Evans-Hughes needed a police escort to get to her wedding in Eccleston, England, after the vintage car she was taking to the church broke down on the side of a busy road.
And this month, a bride and groom in Kerala, India even resorted to using a cooking pot to navigate flooded streets to get to their nuptials. They borrowed the item from a local temple and used it as a makeshift boat to get to the ceremony in the village of Thakazhi.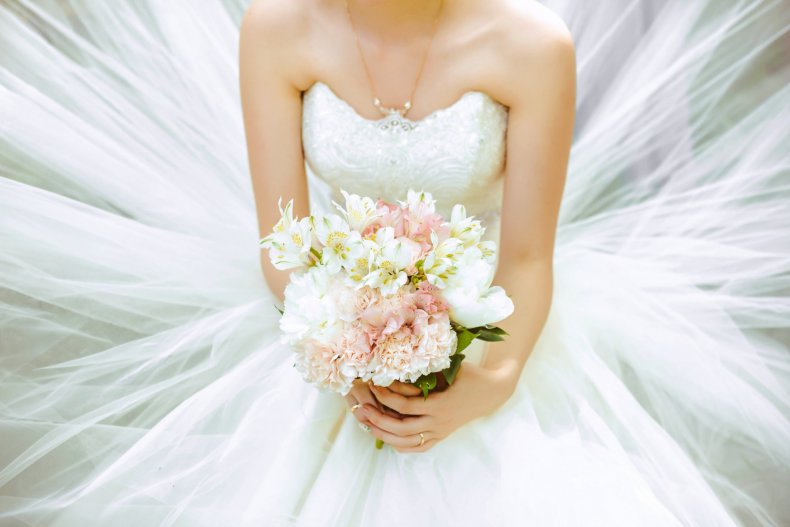 https://www.newsweek.com/bride-groom-tumble-over-during-wedding-first-dance-falling-love-1641922