antrax IT's milan showroom displays designer radiators as if art museum
ANTRAX IT REVOLUTIONIZE HEATING FURNITURE
Founded in 1996, a core belief of Antrax IT is that the radiators they manufacture not only performs highly but also appears styled as an interior furnishing. The products combine technology, energy saving solutions and sustainability with sophisticated design, created in collaboration with renowned names such as Matteo Thun, Daniel Libeskind and Piero Lissoni. As the Italian brand revolutionizes the world of heating, Antrax IT warms its own house — the brand's first showroom in Milan, in the heart of the Durini district.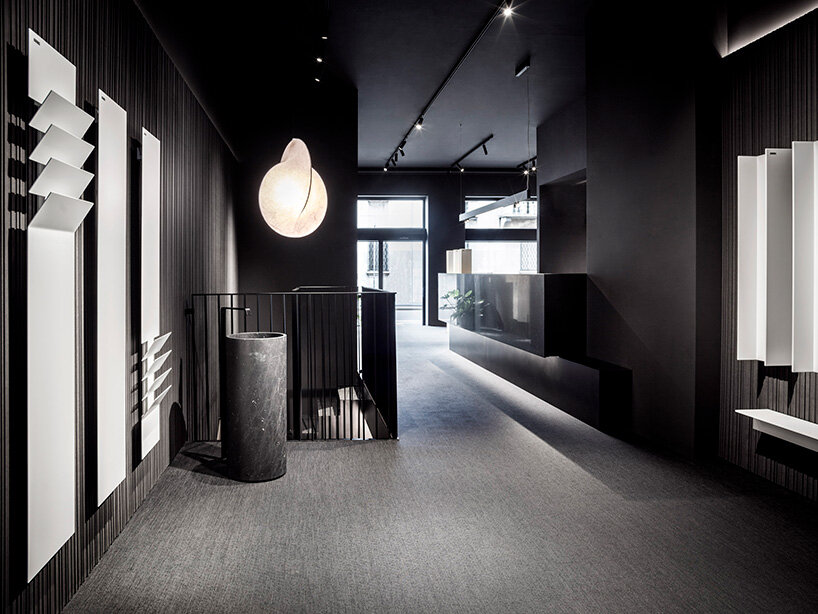 All images courtesy of Antrax IT
Museum of designer radiators
A black & white image conceptualizes Antrax IT's showroom in Milan. The first of the two non-colors — black — envelopes the interior space as if a continuous, distinct background. Products in white are presented along the walls, only occupying the perimeter almost as if an art museum. The portfolio on display includes the new Ghisa radiator by Rodolfo Doroni to be introduced at Milan Design Week 2022.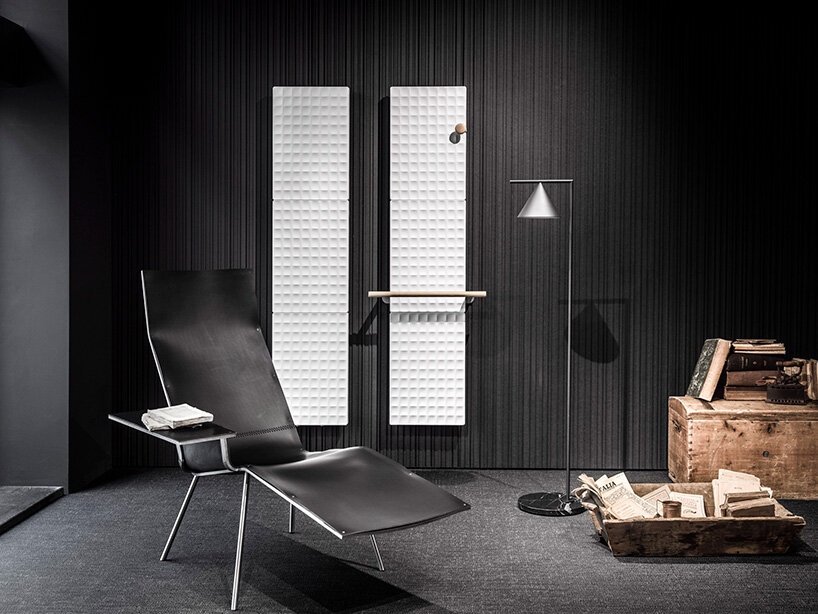 The product display enables guests to move around freely and even allows the space to be adapted easily. It has been designed as more than just a showroom to host numerous collections; the interior is also container for hosting events, exhibitions and even the world of cinema and art.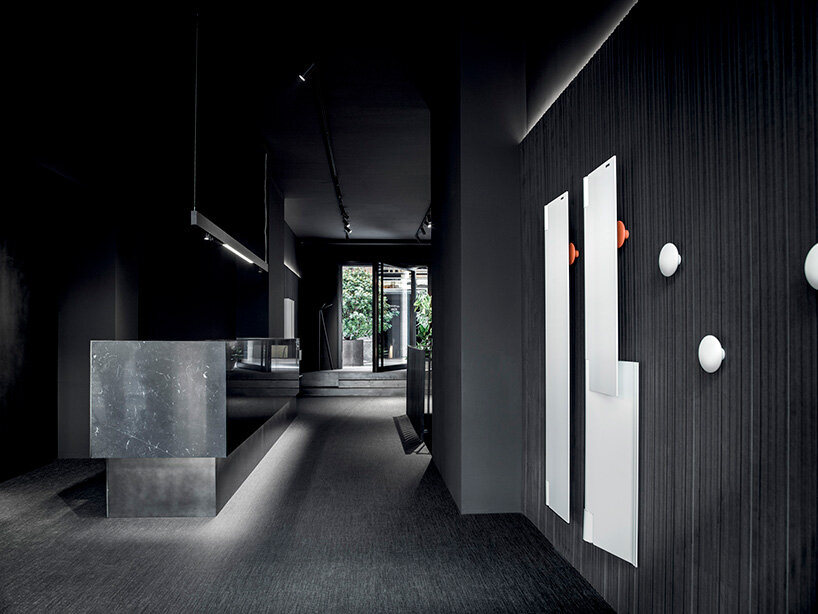 Spread over 180 sqm on two levels, Victor Vasilev – who also designed the brand's Flaps radiator – created the interior. Visitors are welcomed by a large counter completely covered in black Marquina marble. A metal staircase descends to the lower floor. The downstairs houses a large meeting table and material library, the latter including all Antrax IT's range of finishes, models and selection of over 200 color variants.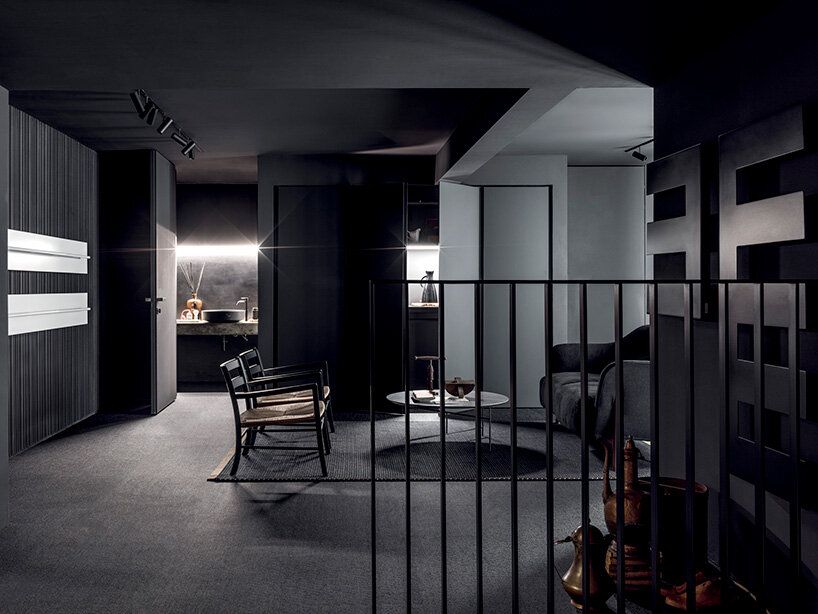 With the walls dressed in black, the radiators become the protagonist in either a matching color or in matt white. On both floors, the wall is partially covered by a boiserie that creates depth and a play of light and shadow. A linear LED is surmounted as the feature merges with the false ceiling. The ambience is enriched with De Padova furnishings, Flos lighting and Resstende technical roller.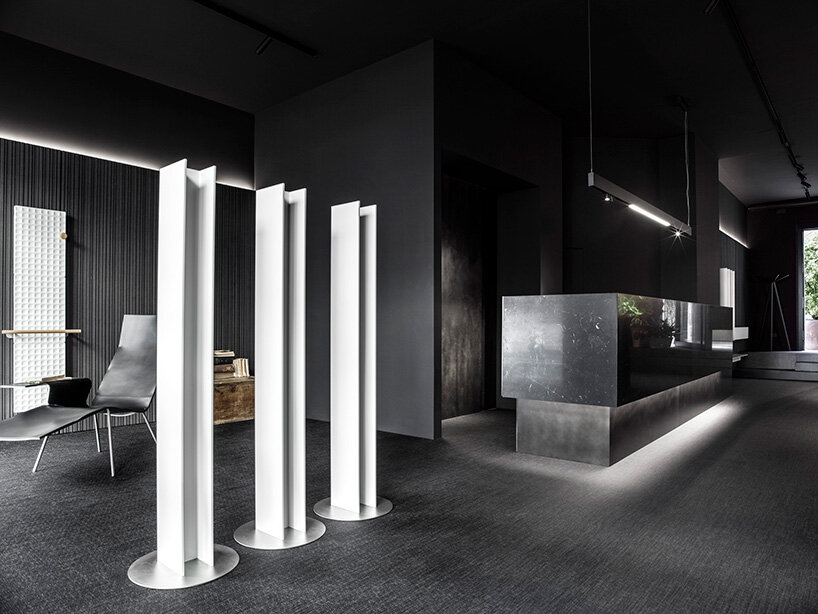 'The theme of a contemporary art gallery, further source of inspiration of the showroom, combines a flexible place for work and discussion. Color, that has always been present, at first glance doesn't seem represented, but constitutes another soul of the space, that opens the doors to customization, allowing architects, customers and distributors to explore different options. We have prepared a material library that offers more than two hundred shades available for radiators,' adds Alberico Crosetta, CEO of Antrax IT.
antrax IT's new milan showroom displays designer radiators as if an art museum